The Learning Commons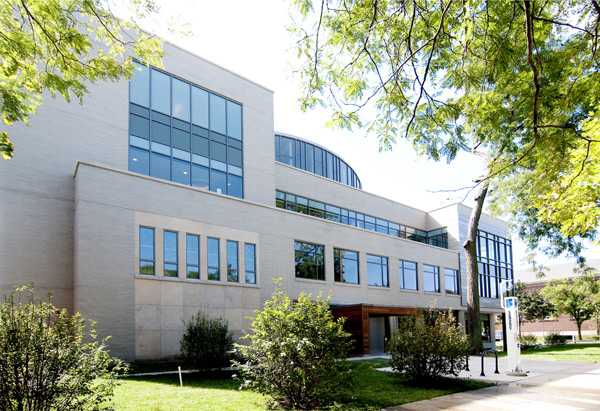 The Robinson & Janet Lapp Learning Commons, centrally located on the third floor of Chicago Theological Seminary's beautiful new building, is a working theological collection of over 45,000 volumes. The library also receives over 700 periodicals and subscribes to multiple databases. The collection is strong in the theological subject areas of Bible, Church History and Theology. Special holdings include the Boisen Collection in Psychology and Personality Science. Particular fields of note include African American religion and spirituality, women's studies, LGBT/queer studies, and Jewish and Christian studies. The Library maintains a small collection of multi-media materials.
ACTS Libraries
CTS faculty, students, and students have Learning Commons privileges with the libraries of the Association of Chicago Theological Schools (ACTS). An ACTS Library Card (called a borrower identification card) is needed to check out materials. Cards can be obtained in the Learning Commons office. The card should be renewed every 6 months.
A complete list of member libraries, their locations and hours can be found through the ACTS website.
A regular courier service runs between academic institutions in Illinois and a worldwide Interlibrary Loan network provides delivery from other libraries outside of the state.
CTS students can also arrange to have free and open library privileges at local denominational libraries and the Chicago Public Library system.
In addition, the Learning Commons provides students with multiple computers for student use. These terminals are equipped with Microsoft Office and internet access.
Relationship with the University of Chicago Libraries
The University of Chicago libraries are the 11th largest library collection in the United States. Through special arrangement, CTS students and faculty can utilize this grand resource in person. Privileges for the University of Chicago Libraries require CTS students and faculty to bring their CTS ID card with them to Regenstein Library.
CTS users will automatically have privileges to enter the Library, but if there is a problem, please see the UofC ID & Privileges office.
University of Chicago policies will apply to University of Chicago loans, including policies for handling overdue materials, fines, lost material, claims returned items, and recalls.